My Grandma's apron was to protect her dress underneath, it was used during canning of vegetables, pulling out pies from the oven, or just wiping her hands after doing dishes.
It was used for comforting her grandchildren, cleaning the crumbs off the table and a multitude of tasks.
She would go to the chicken coup and use her apron to carry the chicken scratch and scraps from her kitchen to her favorite chickens and then gather the green and brown eggs using her apron as a bowl, bringing them into the kitchen to use for baking. If it was time for little chicks to be hatched and they were't quite ready she would bring them into the oven to finish warming before hatching.
When company arrived Grandma would run around dusting the furniture quickly and before they came in the door she would welcome them and have her Sunday apron on.
Her apron was perfect to gather the wooden kindling for her old kitchen stove she would bake her bread in and then remove the hot pans from the oven when the bread was done.
During harvest time Grandma would bring in the ripe tomatoes, peppers or anything that was ready for canning into the kitchen. It always amazed me at how much she could fit into that small apron
She would fill her apron with clothes from the clothes line outside. Her large apron pockets were where the clothes pins were carefully place, it always amazed me how many would fit in those pockets. Sometimes she had an apron for clothes pins only she would hang over her shoulder.
She would go out to the apple trees in the fall and carry in the culls on the ground for the applesauce we would enjoy through the cold winter months.
When I was cold, Grandma wrapped her apron around me, I don't know if it was the apron or her love that kept me warm. Those big old aprons wiped away my tears or the sweat on her brow when she was canning over the hot stove.
You can't find a substitute for the old fashioned apron like Grandma wore. Newer modern aprons with the skinny rope around the neck and short thin front just aren't't up to the job like Grandmas apron was.
My "Old Fashioned" apron may wear out and need to be replaced, but the memories of that apron can last for generations.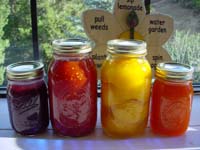 Canning jars,full of fruit and vegetables.
I put some of my new aprons in the Kane County Fair and won first prize ribbons. . Old Fashioned aprons are still the favorites!
As I walk through the fair displays memories come flooding back of when I went with my grandmother. The jars of fruit lined up in rows, all the beautiful colors, the beautiful handiwork done by so many talented people, what a wonderful sight.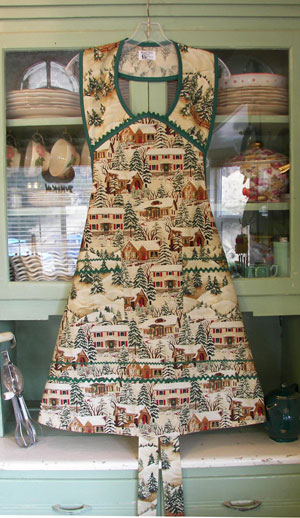 "1940 Old Time Village Christmas Apron"
with Green trim & Ric Rac around top of apron.
Women #1073 $50.95
Child # 295 $45.95
Christmas apron with snow covered cottages, a holiday scene of with Christmas wreaths on pretty houses dripping with icicles and snowmen in the yard.

Angels on Cream (also comes in blue)

Kids wood rolling pin. Pastry set with small rolling pin that will last for generations. Child Rolling Pin made in America.
Kids Wood Rolling Pin and
Child Pastry Set $19.95
Enjoy baking with your child using this child pastry set. Good quality child wood rolling pin with cover are just perfect for their small hands. Cookie cutter, small pie plate mat and recipe card.
An heirloom that will last for years.
Limited quantity.